This is going to be a very short post as it is just on a specific finding that I have had over the past few weeks and thought that I should share it in case any of you are still making the same mistake.
I generally use Hootsuite for managing social media communications; it is great for Twitter as it gives me a simple dashboard where I can see all of the tweets that relate to specific searches I have set up or all of the mentions about me or any of our clients, sent tweets etc etc. As a quick distraction here is a video on using Hootsuite to find new customers on Twitter.
However; Facebook management through Hootsuite is not such a great story.
I have been using Hootsuite for months to post to my Facebook page and also the Facebook pages of my clients. However; since Facebook started publishing data on the specific number of people reached by each posting I could see that each post made through Hootsuite only received about 25% of the impressions as the posts made directly in the Facebook interface.

This can be seen in the following screenshot: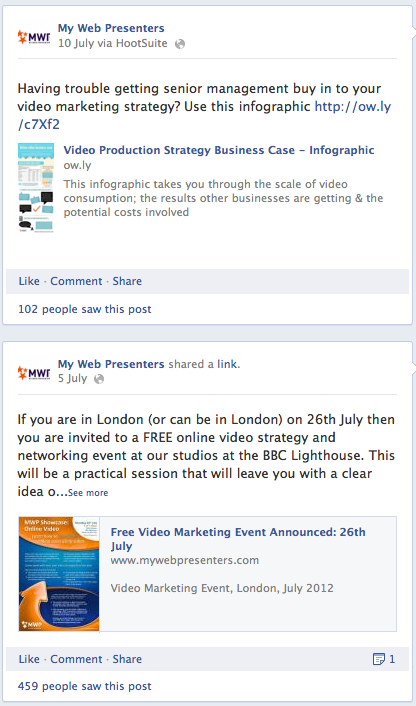 These are two posts made 5 days apart. Note that the first one was posted via Hootsuite (and received 102 views) and the earlier one was posted direct in Facebook (and received 459 views). Although the earlier post was shared which added to the impressions I have noticed that typically a post direct in Facebook gets between 3x and 4x as many impressions as a post from Hootsuite.
I guess that this is not just Facebook having a go at Hootsuite and that the results would be the same whatever social media management tool you use (please let me know in the comments if you use any other tools?). Facebook did penalise 3rd party tools late last year and then stopped doing so therefore this could be a temporary thing but I have a feeling that with the company now being public there is even more pressure to own the users time. This is a shame as Hootsuite makes my life easier but there is just no way that I am going to use it for Facebook with this smaller reach. If you are using Hootsuite for Facebook then I suggest you test this out for yourself and see the results – I would be particularly interested to see if you do not have the same issues as I am having.
Hootsuite have now just announced the release of their support for Google+ pages which means that those can now be managed from the Hootsuite dashboard. needless to say I am going to keep a watchful eye on the variance in performance between direct and 3rd party posts to Google too.