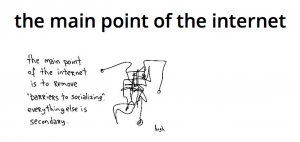 A few months back we were asked to help a government organisation form an SEO link building strategy. Compared to most sites we do link building for it was an absolute breeze but we did notice a few things that could be carried across into general link building strategies for all kinds of websites.
image source: https://themarfaproject.files.wordpress.com/2013/05/01themainpointoftheinternet_10_09.jpeg
Less hustle, more common sense
When it comes down to it SEO link building is about just making the connections on the web that make sense happen, but at a greater speed than would happen if you just waited for them to occur naturally. In a similar way, creating great content just helps facilitate this process and also it broadens the potential for common sense links to a greater range of websites.

Most link building we do involves a certain amount of hustle; in particular outreach emails that are very carefully worded, tested and amended multiple times before we get them right. But with the luxury of a high authority government site there were so many sites out there that it made sense to link to us from, that we could simply focus on making natural, common sense links happen more quickly.
Making reciprocal links happen
Reciprocal links are often misunderstood.
Yes – if you just have a page in your site where you practically automate link building through offering link exchanges and do not carefully audit what is going on then you probably will not benefit much from it or worse get penalised.
However – as mentioned in the great quote above by Hugh Macleod, the internet is about connecting people with other people and as well as that connecting people with information that helps them. This is exactly why active link building is helpful and healthy for the web.
When reviewing the .gov domain which is a site all about social housing in the UK we wanted to understand the nature of social housing, how do people in need of government funded housing find help and also how do the various agencies (public and private) work together to provide these services.
A key part of this analysis was to review the outbound links from our clients site and compare them with the inbound linking domains. We used Majestic for analysing the inbound links and Screaming Frog SEO Spider for the outbound links.
It turns out that our client was linking out to hundreds of related sites that were not linking back in and they were all highly relevant sites about aspects of social housing.
If any search engine would penalise a site for making these kinds of links happen then I am going to pack my bags and become a rice farmer in the mountains.
How to run this inbound vs outbound link analysis
1. Collect all outbound links from your website
If you are not familiar with Screaming Frog's SEO Spider then you are in for a treat. It is so easy to use for this purpose (and many others – see this post for many other uses). You just open it up, paste in the URL that you want to analyse, make sure that under where you paste in the URL you select "External" and then on the filter select HTML so that you do not get links to external images etc. Run the report and then when finished hit the Export button to get it into a CSV file.
In Google Webmaster tools go to "Links to your site" under Search Traffic on the left hand menu and click to see all. Then there are 3 download options at the top – use "Download this table" to see all links.
You will notice that the format of the links in this report is purely the domain rather than the full link whereas in the outbound report from Screaming Frog you have the full link so a little cleaning up is necessary. See step 3 for this.
3. Match the data in Excel and analyse
As the Google data is simply the domain we need to edit the Screaming frog data down to the domain, then remove any duplicates and finally run a vlookup to find matches and gaps. The gaps are the opportunities. This does of course assume that you have not linked out to a lot of unrelated domains. It will require some manual auditing.
In Excel to get the data just down to the basic domain there are 2 steps:
Firstly – run a text to columns process to split out the data by the forward slash character.
The text to columns function is under the data tab. You can see how to set this up in the screenshot below: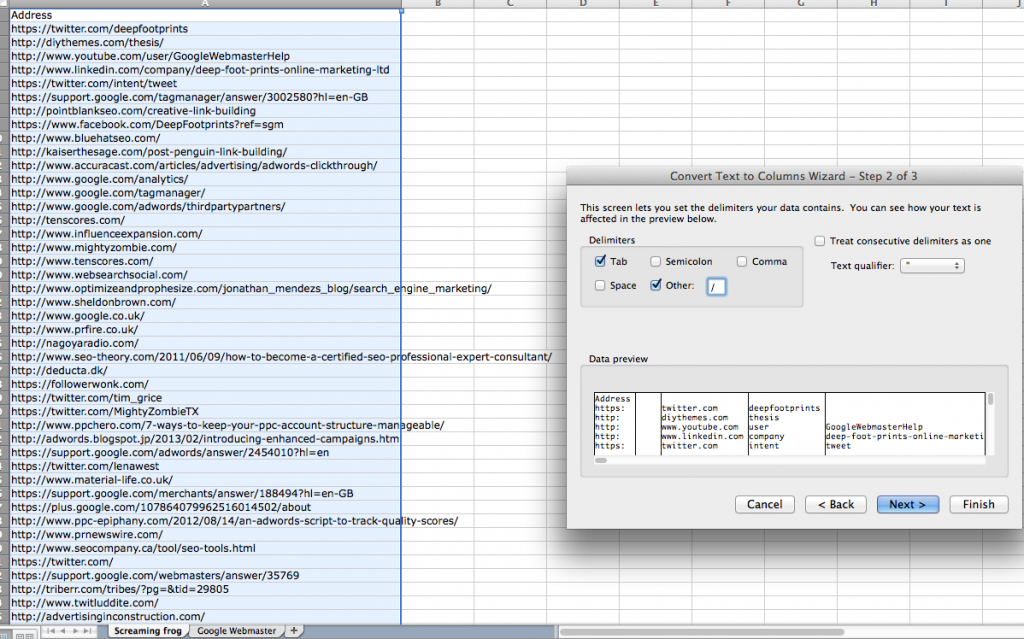 Next you need to delete all of the columns except the one with the domain name in it.
You then need to dispose of the www. which precedes many domain names. To do this use the find and replace function (hold down CTRL and F) – type in .www to be replaced by an empty field and hit "Replace All".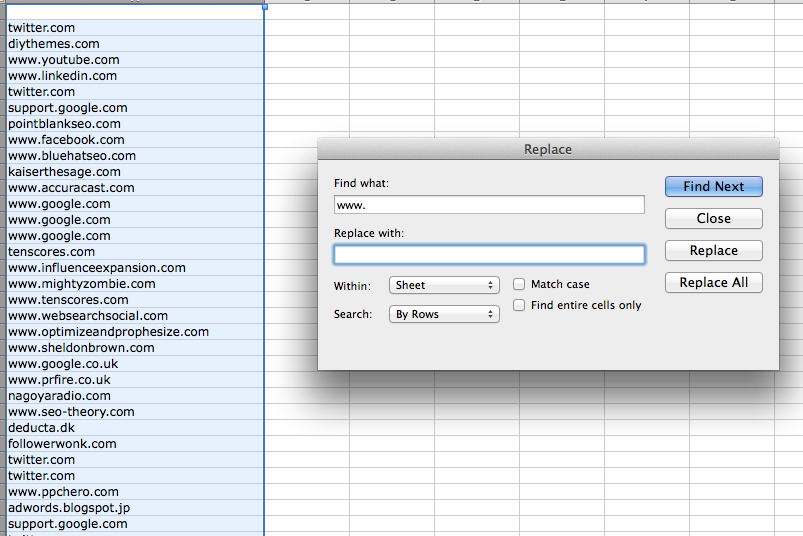 You now have a list of domains for Screaming Frog as well as for Google Webmaster tools. You just need to remove the duplicate domains from the Screaming Frog report now.
In Excel, still on the "data" tab, highlight the column of domains and then select "remove duplicates"
Finally, on the Screaming Frog report you need to run a vlookup to pull in a list from the Google Webmaster tools report of all the sites that are already linking to you so that you can see the ones that are not yet linking.
The screenshot below shows the formula but if you have never run a vlookup before then you will need to read up on it.
Any sites that have #N/A did not find a match in the inbound links so are sites that you are linking out to but they are not linking to you. You can apply a filter to see all of these in a list.
Making these links happen
OK, so for our government client the link analysis looked very different to the one for our site. It really mapped out for us a good number of the other government departments and commercial organisations operating in this industry so was a great target list of link opportunities.
Also; because of the nature of our client being key in this industry the outreach was very simple as we could just contact the other site owners with a very clear reason why they should link to us, no addiitonal content creation necessary.
The very nature of our clients organisation was the link bait.
So what about your average small business?
Even for our site we could see a number of sites that have written about similar topics to us, that we linked to because they covered topics that we were writing about or that were related to things that we were covering. Therefore we can group those sites into our link building outreach and contact them with various strategies about obtaining links back.
The obvious one for us would be to highlight to them that we covered them in a blog post and to ask them to take a look, if they like it then there is a chance that they may link back or at least they will then be aware of us and may keep an eye out for us in the future.
We have found that once you get into the detail of any industry the major online influencers and bloggers are typically a small and well connected crowd so once you get an "in" you can build many new relationships quickly.
The key to this strategy is to understand who you align yourself with, if you have linked to another site in the past then there is probably a basis for a common connection/relationship that has the potential to be pursued.